As a co-owner of Violet x Grace, one might reasonably assume that Rita Rusic has worked in fashion her whole life, but her career pathway is anything but one note. 
Rita was born in Croatia as a refugee. As a result, she moved from Croatia to Milan, before settling in Rome at the age of 5. Growing up in Rome, Rita was surrounded by fashion from an early age. It was there that she got her start in the modeling industry at age 16, working for clients like Fiat and Timex.
Following her modeling stint, Rita started to flirt with the idea of having her own creative career, and thus, she began to make inroads into the film and television industries. Initially, she started as a producer helping to create Italian movies and TV shows, which later led to bigger opportunities for her to direct her own projects. Over the years, Rita has directed upwards of 200 movies and television shows in Italy and the US.

While working on a film in Los Angeles, California, where Rita and her family had relocated for work, she was beginning to get tired of the fast paced lifestyle of the film industry in LA. Yearning to live someplace between an overstimulating metropolis and a snoozy suburb, Rita and her family decided that Miami was the perfect compromise. When Rita relocated to Miami, she met Ina Lettmann, Violet x Grace's founder and fashion director.
At the time, Ina exclusively sold fine and fashion jewelry, and Rita became one of her most loyal customers. Rita and Ina became quick friends, which led to them becoming business partners with Violet x Grace as their joint venture. Since joining forces, they have grown Violet x Grace from a small concept store into a multi-brand boutique with a line of python leather goods designed by Ina.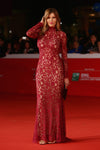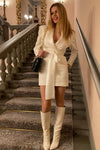 Ahead, Rita Rusic discusses her POV on film, fashion, et al. 
Q: How would you describe your style?
A: I think my style is very personal in a way, because I like to play with clothing. I always did. I like to go with my mood, and sometimes, fashion changes the mood. I like to play and sometimes be more sexy, or more of a business woman, more girlish, or boyish. I think in fashion, it's nice to be classy, but I don't always like to be the same. I don't always feel the same. If I had to choose, I would say my style is very feminine and strong. With a bit of sexy. Going in a direction of more black and less colorful, minimal. 
Q: Do you have any signature pieces in your wardrobe? 
A: There are some pieces, like my favorite IRO leather jacket, my favorite MOUSSY jeans. I love jeans and the right t-shirt. A nice bodysuit by Fleur du Mal. Also Casadei shoes. 
Q: Who are your style icons or favorite designers? 
A: Zimmermann, I love. Their pieces allow you to be feminine. Strong. Cool. I also love IRO, Jonathan Simkhai, Fleur du Mal, Casadei, and I love our Violet x Grace bags. The clutch is amazing.
Q: What do you enjoy about fashion?
A: What I like about fashion is that it takes you somewhere. You just get dressed and you feel another way. I'm coming from the movie business. It makes you the character... It's such a nice relationship with clothing. It takes you back in time sometimes, certain pieces [of clothing]. 
Q: Do you have a favorite fashion capital?
A: All of the different women in different cities are so inspiring. Their styles are so vastly different and inspiring for buying for Ina, but also for me with film. Fashion represents change, and it gives you this mix to create your own personal style. 
Q: What do you think is the secret to Violet x Grace's success?
A: Violet x Grace is a total lifestyle. Choosing the best mix of style for clients. It's a dream. The selection is the best of the best because Ina has such a particular eye and style.
Shop the story

Nicknamed the "Sushi Bag", Violet x Grace's python clutches are crafted in python and left unfinished on the inside for a raw, edgy effect. Each bag features the signature red X logo stitching on the exterior.
Violet x Grace
Violet x Grace Python Clutch
Complete the look