As a model, Violet x Grace's co-owner and fashion director, Ina Lettmann, had a bit of a leg up when she first founded her intimate concept store in 2010. Ina was already well-established in the fashion industry, with a high-end modeling career and a degree in design and business.
Ina always worked in fashion, but it wasn't until she relocated from Paris to Miami Beach, that she decided to launch Violet x Grace. Soon after launching, Ina met Italian film producer, Rita Rusic. Rita became one of Ina's best clients and friends, and the two bonded over their love of fashion. This eventually led them to establish a business partnership with Violet x Grace as their joint venture. 

Together, Rita and Ina have used their experience and passion for the fashion industry to expand their business in a number of ways:
In December, they relaunched VioletAndGrace.com, which features a sleeker site experience, a growing body of shoppable content, and a wider array of brands and products that used to only be available in-store. Certainly not an all-inclusive list, the new and improved website touts a diverse roster of men's and women's fashion brands, such as Alexandre Vaultier, IRO, Golden Goose, Moussy, La Bouche Rouge, Cotton Citizen, Shay, and more to come.
"I like to view the store as a closet, where you can walk in and find everything you need to feel polished," Lettmann tells The Edit. "and we really wanted the website to feel that way, too."
As the fashion director and buyer for Violet x Grace, Ina oversees the store's curation of product which requires a great deal of market work, such as researching new brands, visiting showrooms, and maintaining relationships with global wholesale teams.
Ina also designs Violet x Grace's eponymous label, which includes a range of clothing and accessories, including the brand's iconic python tote bag, and the cheekily named "Sushi" clutch, for its resemblance to a takeout bag.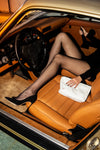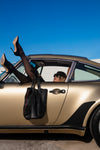 Ahead, Ina discusses her POV on personal style, the buying process, her inspirations, and the brands she's excited about for the fashion season ahead:

Q: What do you look for when you're buying?
Ina: I don't like pieces that are too obvious or trendy. I have to really like it. I have to love it. It has to feel like it would fit into my closet, which is to say, it has to feel essential. 
Q: How would you describe your personal style?
Ina: I would say French, chic, minimalist style is what I tend to like. Not too overcomplicated, I like edgy and easy pieces like our Violet x Grace x IRO leather jacket, which you can just toss on over any outfit. I also love to mix luxury items with more up-and-coming designers. For makeup, I usually go for less. I like to keep my hair undone. You could say I'm a bit of a wild child at heart.
Q: Are there any colors that you gravitate towards?
Ina: For jewelry, I love green and emeralds. For clothing, I like to work around black, gray, beige, and other neutral colors. 
Q: Where do you get your inspiration from?
Ina: Through travel is how I get my inspiration. That's why I have to take breaks [from Miami] to get new inspiration [for the store and the brand], and come back refreshed. I'm not going to fashion shows for inspiration so much, but walking the streets and exploring the culture, the people, and the monuments are all very important.
Q: Are there any places that you are looking forward to visiting or trips that you have planned?
Ina: Yes, I love Paris. I can't wait to visit, because I haven't been able to for so long due to Covid. I used to live there for 8 years, so it feels a bit like home to me. I also love Costa Rica, which I just visited recently. But my next destinations are Paris and Rome.
Q: What is your favorite place to visit in Paris?
Ina: Hôtel Costes. It's this old-fashioned place, but it's really a beautiful, glamorous fashion scene, full of sophisticated and beautifully-dressed people. It's chic sexy, is what I call it.

Q: Is there a brand that you're excited about for the upcoming season?
Ina: Alexandre Vaultier, who is a new brand for us. I love everything about him as a designer. His showroom, the couture, it's all incredible.
Shop the Story

Nicknamed the "Sushi Bag", Violet x Grace's python clutches are crafted in python and left unfinished on the inside for a raw, edgy effect. Each bag features the signature red X logo stitching on the exterior.
Violet x Grace
Violet x Grace Python Clutch
Complete the look