If you haven't yet been struck by Cupid's arrow, then Valentine's Day may not be on your radar. Fear not. A party for one is still a party indeed, and to help you celebrate, the Violet x Grace team has rounded up the perfect assortment of Valentine's Day items for yourself, a friend, or perhaps your lover du jour.
Meet us down below and shop the 5 items that the Violet x Grace editors are in love with for Valentine's Day.
The KIKI Dual Wand
The Dual Wand has two usable ends and curves in all the right places. The motors employ Kiki's signature deep rumble vibrations that resonate deep into the body for sensational massage. The larger end is curved for G-spot stimulation while the elongated end heats up with use. Each end is independently operated. 
Kiki de Montparnasse
KIKI Dual Vibrating Warming Wand
We cannot get enough of this vibrator from Kiki de Montparnasse. It is incredibly versatile: each end has a slightly different shape and size, for when you want to switch things up.
The motor's deep rumble is a signature (and exhilarating) feature of Kiki's line of self care products. Another feature that is unique to this product is the warming function, perfect for yourself or to use with a partner.
The Lips Candle

Decorated with the painted lips of Fornasetti's muse Lina Cavalieri, this scented candle is held within a ceramic container, where natural wax releases the sophisticated scent of the fragrance Otto, a blend of Mediterranean herbs, woods, and incense.
Any minor discrepancies between similar creations are the result of craftsmanship and attest to the uniqueness of each product.
Fornasetti
Bacio Candle 300G
Sensual on multiple levels, this candle from the Italian brand Fornasetti exudes an herbaceous bouquet of earthy notes and features a beautiful painting of Fornasetti's muse Lina Cavalieri's lips.
Our Fashion Director and Buyer Ina Lettmann is in love with all of the candles from Fornasetti for their fine craftsmanship and attention to detail. Each candle features a beautifully decorated ceramic container, and is made in Italy. These candles will enliven your space, and help to set the mood. And you can use them as storage containers long after the wax has burned out.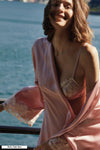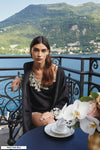 The New Naked Dress
Barely there is an understatement. If Clueless was remade in 2022, Cher Horowitz might be spotted wearing this sweet and sexy mini chain strap slip from the ever-chic Fleur du Mal. Our editors loves this slip dress for it's versatility–perfect for the bedroom, or styled with a blazer and Casadei pumps for an elevated approach.
The Red Lip

Le Rouge Self Service Satin. A bold and beautiful red lip by Self Service Magazine. An 87% natural origin ingredients serum formula enriched with a powerful anti-aging seaweed harvested by hand in St Suliac, France. The lipstick formula is vegan, cruelty-free and without beeswax. It does not include petroleum derivatives nor silicone.
La Bouche Rouge
Lipstick Refill: Self Service Satin
At Violet x Grace, our editors and Fashion Director Ina Lettmann loves a red lip. La Bouche Rouge is one of our favorite lipstick brands for its smooth, seamless finish and the vegan, cruelty-free formula that is created without beeswax, petroleum derivatives, silicone and a range of other less than desirable chemical additives. Self Service in Satin is a gorgeous, shiny hue of red–perfect to wear for Valentine's Day, or on days when you want to add a pop of color to your beauty routine.
The Diamond Earrings
Based in LA, Ladan and Tania Shayan create incredible jewelry for their brand Shay, and these diamond fringe earrings are no exception–crafted in rich 18k yellow gold, they are a show-stopping addition to anyone's earring collection.
Our team is particularly obsessed with the pavé detail on this pair and how the diamond fringe detail sparkles at every turn. Our editors love them styled alone, or stacked with other single earrings from the emerging accessory brand Earring Corporation. Shay's diamond fringe earrings are truly one of the finest gifts to give to yourself or a loved one this Valentine's Day.