It's an icon for a reason. As Violet x Grace's fashion director, Ina Lettmann travels frequently to visit showrooms and gather inspiration for the store, but, perhaps ironically, was always searching for the perfect, lightweight travel bag. While there were plenty of options in the market, she could never find one that checked all of the boxes.
"I love chic, effortless pieces. It sounds silly, because there are so many options in the market, but I travel so much and could never find a tote or a travel bag that I was really drawn to," says Violet x Grace fashion director Ina Lettmann, "which is why I decided to design one instead."
Enter: the quest for the iconic, python tote bag.
The bag had to be "undone", in a material sense–think raw, unfinished edges–but also in terms of style. It had to possess an uncoiffed, off-duty type of vibe. It had to be edgy, naturally, but it also had to be neutral and understated enough to wear everyday, and large enough to carry a change of clothing, a laptop, or anything else one might need in her carry-on. Incorporating Violet x Grace's signature red X logo was a must, as well.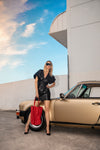 Soon after the idea for the tote bag first materialized in her mind's eye, Ina began to sketch out the designs, perfecting the silhouette, straps, eta al. After completing the sketches, she sought out the top production facilities in Europe, before landing on one in Tuscany.
Once they connected, Ina began working with the factory on prototypes, fine tuning all of the details–like the length the straps, and the colorways. She knew she didn't want the tote bag to be lined, but there were other factors to consider, like finding a leather that wasn't too shiny, for starters.
Almost four months later, after a series of revisions, Ina received the top of production sample for the python tote bag–and it was perfect. It was supple, raw, unlined, and très chic. Soon after, the bag went into production, and et voila! 
The quest for the perfect travel bag?
Complete.
Shop the Story
Complete the look